Police wraps are an amazing way to differentiate your agency's fleet from the crowd. The car wrap lets you wrap any vehicle, from special on-off to the patrol cards, and you can easily represent your community and your motto.
When you cover the police vehicle with printed full-color graphics, then it makes your car stand out as compared to simple vinyl lettering. These car wraps can be used for smaller segments, or they can completely change the look too. Maybe an officer wants some specific colors or they want to blend in with the surroundings; there is a police car wrap available for every need.
So, you want to give your fleet an updated look, but you are wondering if wrapping is the best action? Read the article to know more about its benefits and why you should opt for it.
The Benefits Of Police Wraps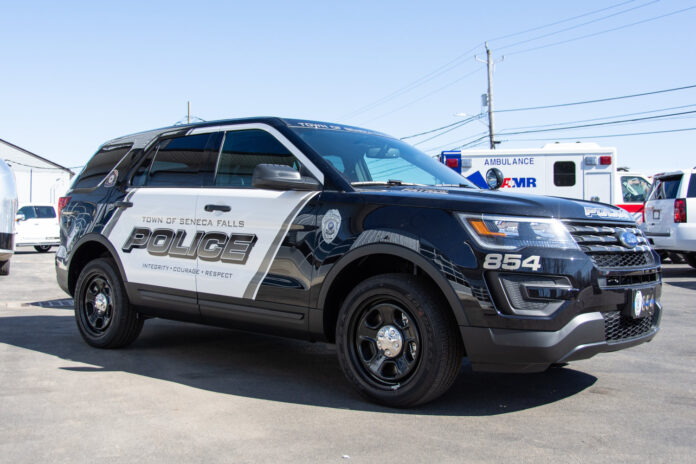 When it comes to technological advancements, there is no doubt that it is far-reaching. In today's time, instead of using normal paints to mark police vehicles, several law enforcement agencies are opting for police car wraps. These are specially designed, and they add value to law enforcement. These wraps make police cars:
Cost-effective
Adaptable
Flexible
Cost-Effective
When you encase the vehicle doors in wraps, then it helps in reducing the alteration costs of automobiles. It is more affordable than painting the vehicle, and you can also avoid the maintenance cost as you do not have to repaint again and again. Another added benefit is that if the wrap gets damaged, then a reliable wrapping company can replace that section, and you might not have to replace the whole wrap.
Adaptability
There are some police departments that opt for black vehicles, so they can include white wraps to mark them as police cars. Also, when a law enforcement agency retires a cruiser, they mostly sell it to the recoup and get some initial costs. However, in this situation, vehicle wraps are beneficial, as it is easy to sell the police cruiser as one can easily remove the wrap, and they can sell the vehicle as a white and black car.
Flexibility
The law enforcement department can also use the cars for different purposes. For example, they might need an unmarked car in their squad; then, it is easy to remove the wrapping. If they have used the paint to mark, they would have to repaint the car, thus increasing the time and cost. Vehicle wraps allow law enforcement departments to use their cars for other purposes.
Durable
Officers use their patrol cars 24*7, whether it is raining, snowing, or the sun is shining bright. That is why vehicle wraps work great, as there are premium options for weather resistance. So, it means the vehicle will be protected no matter the weather, and the graphics will still be intact.
What Is The Vehicle Wrapping Process?
The most common steps in the wrapping process are:
Designing
Verification of the pattern
Printing
Placement of the wrap
Review
When it comes to designing then, the time it can take depends upon how complex the design is. For example, it will take longer if the design requires special cuts or if there is a requirement for some contouring. Any reliable wrapping company would go for pattern verification and verify the design before beginning the process.
After that, the prints are laminated and allowed to rest for at least 24 hours. This is basically done to ensure that there is no bubbling or wrinkling when the wrapping process takes place. Before putting up the wrap, a technician will thoroughly clean the exterior of the vehicle. Before releasing the car, the company does a thorough inspection; only they deliver it.
Types Of Police Car Wrap
There are two types of police car wrap:
Partial wrapping
Complete style wrapping
In the partial wrapping style, only a portion of the vehicle is wrapped. In a complete or full wrap, the entire vehicle is covered, that is, all four sides. Also, with a partial vehicle wrap, the door wraps can easily be covered with some reflective designs and graphics, and also, using a white wrap can reduce the heat inside the car.
When it comes to full coverage, you must take care of the longevity as they can be prone to damage compared to partial coverage. However, this issue does not occurs with the best quality work.
Components Of Law Enforcement Wraps
Apart from the colors, below are some of the ways police forces utilize wraps:
They add reflective graphics as it enhances their vehicle's visibility, making it easy to identify a law enforcement vehicle.
The police force also adds the name of the law enforcement entity, such as the word Sheriff, and Police are used as a graphic.
There can also be a star, shield, or badge printed on the wrap. These emblems help the public to instantly recognize the law force vehicle. Also, there are private security companies that use their emblem, which separates them from official law enforcement.
Police departments also add wraps to show their motto or statement. For example, their vehicle can have a motto such as, We are here, to inspire the public to have trust in them.
One of the best uses of wraps is the inclusion of emergency phone numbers or contact details. For example, several law enforcement agencies have 911 printed on their vehicles.
Conclusion
Summing up, regarding police vehicles, wraps are one of the best and most reliable ways to have clear identification and maximum visibility. When one knows a police vehicle is passing through, it will help in preventing some crimes. Also, police cars have been there to keep people safe, and regulate the traffic, which is why it is vital that they are noticeable. There have been several ways to make the vehicles stand out, such as using paint, but when it comes to durability and reliability, vehicle wraps are the high-performance option.