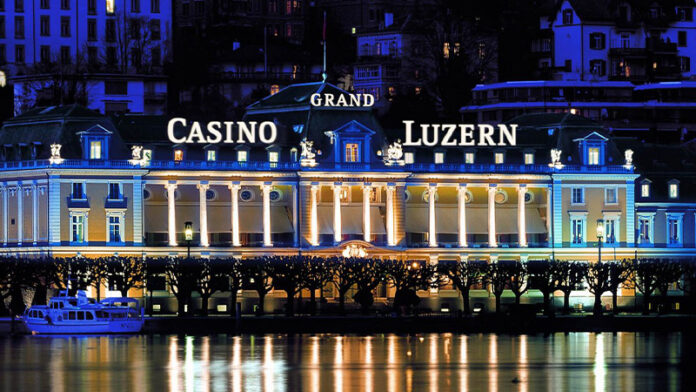 Switzerland has long been synonymous with luxury and refinement, drawing visitors from around the globe to its beautiful landscaped and vibrant cities. We can also see this luxurious image in this country's land-based casinos. In this article, we dive into the enchanting realm of Switzerland's exquisite casinos where beauty and class converge to create an extraordinary gaming experience.
Here, we will explore the harmonious blend of world-class gaming and lavish surroundings, a combination that elevates Switzerland's casinos to a league of their own. Prepare to be captive by the allure of Swiss casinos, the history of the buildings and the gaming options they provide.
Casino Baden
Casino Baden truly has one of the most beautiful casino buildings in Switzerland. Since its inception in 1824, this establishment has been a magnet for tourists and gamblers, presenting elements of its 19th-century heritage. These historical accents harmoniously blend with the modern glamour of Las Vegas. A visit to this casino promises an opulent and thrilling evening, where adherence to the smart-casual dress code is a must.
This casino has a bar, a restaurant, and of course, gambling rooms. Withing their gaming selection, you can find a diverse array of slot games, American roulette, and blackjack. Baden takes their poker seriously and that is why they have created a dedicated section on their website that covers poker tournament schedules, entry requirements, promotions, and other essential information for poker enthusiasts.
Casino Lugano
Nestled in the Italian-speaking region of Switzerland, Casino Lugano offers a much different gaming experience. In contrast to the typical setting of large casinos, Lugano stands apart. This gem of a gaming establishment deviates from the norm of the busy and noisy streets of Las Vegas and has a unique location right next to Lake Lugano and very close to the famous Lake Como.
There are two floors dedicated to slot machines, one floor for table games, a restaurant, an event floor, and a terrace, from which you can enjoy the amazing lake view. The pleasant atmosphere of the lakeside and the Mediterranean charm make the visit to this casino a truly memorable experience.
Grand Casino Luzern
Located on the banks of Lake Lucerne, the Grand Casino Luzern has been a symbol of elegance since 1882. Grand Luzern resides within a breathtaking Belle Epoque building, offering a stunning lakeside and mountain view that rivals the world's most luxurious casinos. Luzern itself is the most popular city in Central Switzerland and draws in a multitude of visitors, which adds to the casino's allure.
Gamblers will find a diverse array of entertainment at Grand Casino Luzern. From classic roulette and poker to a selection of modern slot machines for every gaming preference. This casino hosts prestigious gaming tournaments, with the recent Poker Circle Swiss Open held from the 11th of October to the 15th of October in 2023. This renowned establishment has welcomed many world-class gamblers and famous personalities through its doors, proving its high status.
Beyond gaming, Grand Casino Luzern also offers a luxurious hotel and two restaurants. The former dining room 'Olivo', decorated with a glorious chandelier, still enjoys its popularity. The famous terrace restaurant 'Dolce Vita' existed from the very beginning and still offers high-class gourmet meals in an elegant setting.
Casino Zurich
Casino Zurich is Switzerland's biggest casino, featuring an extensive array of over 400 electronic gaming machines and 26 table games. They offer popular options like American roulette, blackjack, and baccarat. With its cosmopolitan dynamic atmosphere and neon lighting, Casino Zurich reminds us of the iconic Las Vegas style.
Strategically situated in the heart of the city, Casino Zurich is just an 18-minute drive from Zurich International Airport. Within the casino's premises, visitors can savour fine dining at a high-quality restaurant, and the proximity to numerous boutique hotels in the area makes it a great destination for tourists and gaming enthusiasts.
Casino Montreux
Located alongside the picturesque Lake Geneva, Casino Montreux traced its origins back to 1881 when it primarily hosted numerous outstanding symphony orchestras and well-known conductors. A significant shift occurred in the late 1960s when the stage welcomed rock, blues, and jazz musicians. Several years later, music promoter Claude Nobs undertook a transformative endeavour, converting the casino into the celebrated home of the Montreux Jazz Festival. This event still happens every fortnight in July and lasts for three days.
The casino itself exudes opulence, featuring lavish red carpeting, red walls, and a vibrant illumination scheme. Within its elegant confines, Casino Montreux offers two restaurants, a swimming pool, a collection of 374 slot machines, and 25 gaming tablets. This establishment also boasts a dedicated area paying homage to the legendary band 'Queen'.
Conclusion
You will not find elsewhere in the world such a wide game selection in such a beautiful setting. The Swiss authorities and casinos together walked the extra mile in order to preserve the architectural essence of these timeless buildings. But unlike many other countries, they have also taken a forward-looking approach. Switzerland exclusively grants licences to land-based establishments, which also operate the country's online casinos.
By using this unique approach, they have successfully integrated traditional land-based casinos with online platforms, maintaining control, style, and security, all while staying current and enhancing accessibility. A good example of this innovative approach to gaming control is the leading gambling website in Switzerland – MyCasino. This online casino falls under the ownership of the land-based establishment Grand Casino Luzern. More detailed reviews for the Swiss online casinos you can find on BesteOnlineCasino.ch. Whether you want to visit in person or prefer to play online, Switzerland's grand casinos can offer you a great experience. Embrace the charm, glamour, and thrill that these casinos offer, and make your visit memorable.