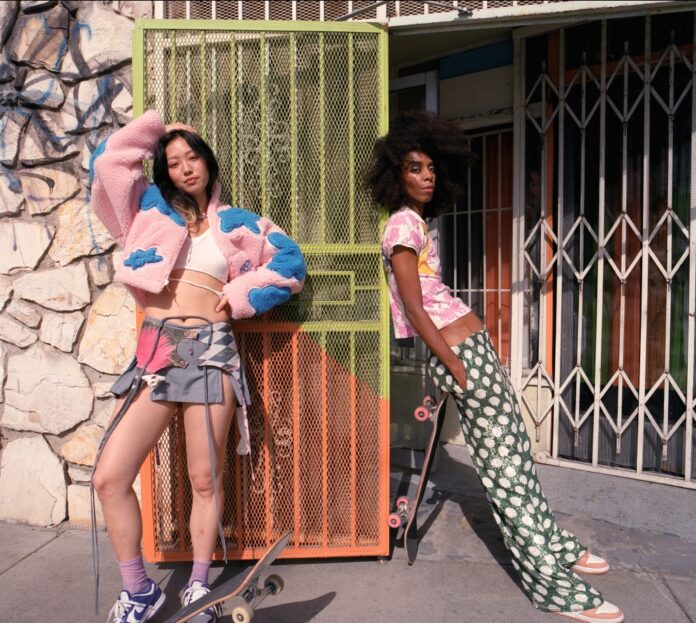 Skater girl fashion isn't just a trend; it's a lifestyle. It's the perfect blend of style and attitude, capturing the essence of freedom and rebellion.
Whether you're a seasoned skateboarder or just someone who admires the look, the skater girl aesthetic is all about expressing yourself authentically. It's not just about the clothes; it's about the confidence and individuality that comes with them.
Essential Wardrobe Staples
Denim: The foundation of skater style
Every skater girl knows that a good pair of jeans is the cornerstone of their wardrobe. Whether it's ripped, baggy, or skinny, denim provides the versatility and durability needed for both skateboarding and making a fashion statement.
Graphic tees and band shirts: Embracing a rebellious spirit
Did you know that graphic tees originated in the 1950s and became popular in the 70s with rock band tees? These shirts are a nod to the skater's love for music and their rebellious nature.
Hoodies and sweatshirts: Comfort and edginess combined
Nothing screams comfort like a cozy hoodie or sweatshirt. But for the skater girl, it's not just about warmth. It's about making a statement. Opt for oversized fits, unique prints, or even DIY customizations to elevate your look.
Sneakers and skate shoes: Functionality meets fashion
Always invest in a good pair of skate shoes. Not only do they provide the grip needed for skateboarding, but they also come in various stylish designs perfect for any outfit.
Beanies and caps: Adding the finishing touch
Whether it's to keep your hair in place while skating or just to add that extra flair to your outfit, beanies and caps are essential. Go for bold colors or stick to neutrals; the choice is yours!
Layering Like a Pro
Layering is the secret sauce to those perfect skater girl outfits. It's all about mixing and matching different pieces to create a look that's uniquely yours.
Mixing and matching textures and patterns
Don't be afraid to pair a floral skirt with a striped tee or a leather jacket with a lace top. The contrast can create a visually appealing outfit.
Incorporating oversized pieces for a relaxed vibe
Oversized shirts, jackets, and even pants can give that laid-back, effortless look that's synonymous with skater style.
Stylish ways to layer hoodies, jackets, and flannels
Imagine a graphic tee paired with an open flannel, topped with a leather jacket. The layers not only add depth to your outfit but also provide practicality for changing weather conditions.
Playing with proportions to create a unique silhouette
Pair a cropped hoodie with high-waisted jeans or a long tee with short shorts. Playing with proportions can give a fresh twist to classic pieces.
Dressing Up for Skating
Who said you can't look chic while skating?
Transitioning from casual to chic effortlessly
Swap out your sneakers for some heeled boots or add some statement jewelry. Small changes can elevate your look from day to night.
Skater dresses and skirts: Femininity with an edge
Skater dresses and skirts are not only named after the sport but also embody the spirit of it. They're flirty, fun, and perfect for a day at the skatepark or a night out.
Jumpsuits and rompers: Easy one-piece statements
For those days when you can't decide what to wear, jumpsuits and rompers are your best friends. They're easy to throw on and can be dressed up or down with the right accessories.
How to accessorize while keeping it practical
Opt for crossbody bags or backpacks when skating. They're not only practical but also add to the skater aesthetic. And don't forget protective gear like knee pads and helmets—they can be stylish too!
Bold and Edgy Makeup and Hairstyles
Your outfit isn't the only thing that can make a statement.
Smudged eyeliner and grunge-inspired eye makeup
Channel your inner 90s grunge with some smudged eyeliner and dark eyeshadow. It's edgy and perfect for the skater vibe.
| | |
| --- | --- |
| Product | Description |
| Smudged Eyeliner | Perfect for creating that grunge-inspired look |
| Mascara | Adds volume and length to your lashes |
| Tinted Lip Balm | Gives a natural flush of color while moisturizing |
| Bronzer | Adds warmth and dimension to the face |
Vibrant hair colors and highlights
Fan Fact: Vibrant hair colors have been a symbol of rebellion and self-expression since the punk rock era. Whether it's neon green, pastel pink, or electric blue, a pop of color can elevate your look.
Effortless beach waves and messy buns for a laid-back look
Nothing says "I woke up like this" better than some tousled beach waves or a messy bun. It's effortless, chic, and perfect for the skater girl on the go.
| | |
| --- | --- |
| Hairstyle | Description |
| Beach Waves | Effortless and chic |
| Messy Bun | Perfect for those on-the-go days |
| Braids | Practical and stylish for skating |
| Pixie Cut | Edgy and low maintenance |
Incorporating piercings and tattoos into your style
Piercings and tattoos are a form of self-expression. Whether it's a tiny stud or a full sleeve, they can add that extra edge to your look.
Nailing the Skater Aesthetic
Distressed denim and DIY customization
Ripped jeans, frayed edges, and patches aren't just trendy; they're a testament to the skater's adventurous spirit. DIY customizations allow you to add a personal touch, making each piece uniquely yours.
Iron-on patches and embroidery: Adding a personal touch
Iron-on patches have been around since the 1960s and were a popular way to express oneself or support a cause. Today, they're a fun way to customize jackets, jeans, and bags.
Vintage finds and thrifted treasures: Nostalgic elements
Thrift stores are a goldmine for unique pieces that can't be found anywhere else. Vintage band tees, old-school sneakers, and retro accessories can elevate your skater look.
Embracing the carefree attitude in your stance and demeanor
The skater girl look isn't just about clothes; it's about the vibe. Carry yourself with confidence, and don't be afraid to be yourself.
Celebrity Skater Style Icons
The world of skateboarding has given rise to several style icons who've left an indelible mark on fashion. Here are a few:
Riley Hawk
Being the son of skateboarding legend Tony Hawk, Riley has carved out his own niche. His style is effortlessly trendy, characterized by tattoos, long hair, and vintage tees.
Curren Caples
Curren's style is minimalist yet sophisticated. His go-to look comprises all-black ensembles, baseball caps, and a touch of RVCA.
Lucien Clarke
Lucien, a British skater, might just be the best-dressed in the sport. He's known for his eclectic mix of Supreme, old-school Kangol bucket hats, and even full-length furs over hoodies.
Eric Koston
Eric isn't just a skateboarding legend; he's also a designer. He co-founded the skate brand Fourstar in the mid-'90s, bridging the gap between fashion and skate style.
Ben Nordberg
When he's not skating, Ben is seen in ad campaigns or at fashion shows. His style is versatile, transitioning from casual hoodies to runway-ready brocade blazers.
FAQ
Can I embrace the skater girl look if I don't skateboard?
Absolutely! Fashion is about expressing yourself. Whether you skate or not, you can rock the skater girl aesthetic.
How can I make the skater girl style more suitable for different seasons?
Layering is key. In colder months, add leggings under shorts, wear thermal tees under your shirts, and always have a stylish jacket or hoodie on hand.
What are some budget-friendly ways to achieve the skater look?
Thrift stores are your best friend. Also, DIY customizations can transform basic pieces into trendy outfits.
Can I still wear dresses and skirts while maintaining the skater aesthetic?
Yes! Skater dresses and skirts, paired with sneakers or combat boots, perfectly encapsulate the skater girl vibe.
What are some sustainable practices I can follow while building my skater-inspired wardrobe?
Opt for brands that use sustainable materials, buy second-hand, and upcycle old clothing.
Are there specific brands that specialize in skater girl fashion?
Brands like Vans, Thrasher, and Supreme are staples in skater fashion. However, many mainstream brands now offer skater-inspired collections.
How do I strike a balance between looking effortless and put-together?
It's all about balance. Pair a polished piece, like a structured blazer, with something casual like ripped jeans. Accessories can also elevate a simple outfit.
What are some alternative fashion styles that can be blended with the skater girl look?
Grunge, punk, and boho styles can seamlessly blend with the skater aesthetic. Don't be afraid to mix and match!
Conclusion
The skater girl look is more than just a fashion trend; it's a statement of individuality and confidence. From the essential wardrobe staples to the attitude, it's about embracing a lifestyle that values authenticity and self-expression.
Whether you're a seasoned skater or just someone who loves the aesthetic, remember to have fun with your style, experiment with different looks, and always stay true to yourself. Skate on and slay, fashionistas!